What to do around The Treehouse for any kind of Get-Away!!!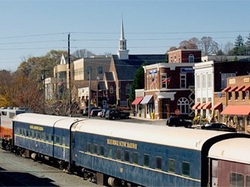 For the family:
* Swan Drive-in movie theater * Blue Ridge Scenic Railway
* zip lining * Southern Tree Plantation
*Lily Pad Village for Gem Mining, Fishing & Mini Golf
* seasonal farm-fresh fruit picking at one of the many area orchards (strawberries, cherries, blueberries and apples)
* childrens' theater productions at Blue Ridge Theater
* Lake Blue Ridge (swim, boat & jetski rentals), hiking nearby trails, fishing in one of the nine stocked lakes on the mountain, and so much more!

For the ladies:
*Retail therapy in the shops of Ellijay, Blue Ridge and McCaysville, as well as the flea market in Murphy, NC (about 35 minutes north) on the weekends.
*Spas and salons in the area that will cater to you in their establishment, or even come to you in the cabin!!
*Visit one of the local wineries for a tasting and pick up a bottle or two for a relaxing evening on the hot tub.

For the guys:
*Fishing *Golfing *Hiking *Crush some cars in a tank at Tank Town USA
Round up your friends and head over to enjoy a weekend of manly fun! Stocked ponds and hiking trails are located on the mountain, so no need to venture out unless you are off to play a round of golf or have a delicious dinner at one of the many restaurants in town (try the Pink Pig right near the entrance to Cherry Log Mountain on 515 for great BBQ!).

For romance:
*Blue Ridge Community Theater *Couple's massage at one of the many spas (or even in the cabin!)
*A a romantic dinner out (or in - Cabin Chef comes to you!) *horseback riding
*just cuddle up in the cabin for a weekend of wonderful reconnection.

---